Anand Bhatt Elite Sponsorships deliver the greatest marketing impact possible, aligning sponsoring brands with international celebrity Anand Bhatt leading up to, during and after various events, music releases, appearances and more. Anand Bhatt's team works closely with sponsors to reach their target demographics, hone their sponsorship activation approach, integrate sponsor offerings and achieve their marketing objectives.
Anand Bhatt Sponsorships include assets such as:
Planning support and promotion of unique sponsor activations

Exclusivity within category at the Major Sponsorship level for Anand Bhatt Music, Appearances, and Overall Media Presence

The ability to use the Anand Bhatt brand name and his images in promotional campaigns

High visibility social media, pre-event and onsite brand association via celebrity Anand Bhatt.

Integration opportunities, weaving your brand or product into the fabric of Anand Bhatt's influential presence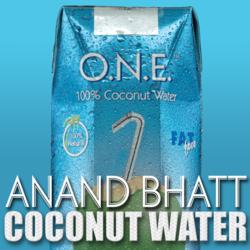 "We're happy to partner with such a talented artist as Anand Bhatt!"
- Lucy Render-Kaplan, Marketing Manager for O.N.E. Coconut Water
Silicon India's Top 5 Indian-Americans in Hollywood
Silicon India
http://www.siliconindia.com/shownews/Top_5_Indians_in_Hollywood_to_look_out_for-nid-87984-cid-1.html
Latindia honors Anand Bhatt for his incredible efforts to promote Indo-Latin cross-cultural understanding
Latindia
Latindia would like to congratulate Anand Bhatt for his incredible artistic accomplishments, and his efforts to promote Indo-Latin cross-cultural understanding:

https://www.facebook.com/notes/latindia/latindiartistas-around-the-world/416932911747846
Product Marketers yield rapid and stable results by using Anand Bhatt's name, image, and/or likeness in any and all advertising. Anand Bhatt stars and appears in various entertainment media and events.
• Anand's social media and traditional media visibility are leveraged by Product Marketers and Marketing Directors by having the celebrity discuss and mention products and messages online, in interviews, and during appearances in an organic and streamlined fashion.
• Anand's fan base is international, with most fans concentrated in the United States, Europe, Latin America, and Asia.
• Anand has exceptional influence amongst his fans and followers. He delivers desired messages via interviews with the press, as well as social networks (Facebook, Twitter, Google+, IMDB, LinkedIn, and more.
• His fan demographics are 70% female, ages 22-45.
Entertainment Productions benefit by Licensing Anand Bhatt music for use in various media.
Retailers benefit by carrying Anand Bhatt titles and enjoying direct revenue from sales.